Hindenburg Disaster - History of LZ 129 Hindenburg Airship
LZ 129 Hindenburg was a Zeppelin, commercial passenger-carrying rigid airship that flew from March 1936 until destroyed by fire 14 months later on May 6, 1937. It was named after the late Field Marshal Paul von Hindenburg (1847–1934), which was the President of Germany from 1925 to 1934, and was the lead ship of the Hindenburg class, the longest class of Zeppelins and the largest airship by envelope volume. It was 245 meters long and had 41 meters in diameter. It was one of two airships ever purpose-built for regular commercial transatlantic passenger flights.
LZ 129 Hindenburg was manufactured from 1931 to 1936 by Zeppelin Company (Luftschiffbau Zeppelin GmbH). Its structure was made from duralumin and it had 15 bulkheads in a shape of Ferris-wheel with 16 cells (balloons), made from multiple layers of gelatinized latex and placed between bulkheads. Designer by the interior furnishings of the Hindenburg was Fritz August Breuhaus who was famous for designing of Pullman coaches, ocean liners and warships of the German Navy. Airship was first constructed to hold 50 passengers and a crew of 40 and is later upgraded to 72 passengers. Upper "A" Deck had small passenger quarters in the middle and large public rooms on both sides: a dining room to port side and a lounge and writing room to starboard. On the lower "B" Deck were placed washrooms, a mess hall for the crew, and a smoking lounge. Passenger cabins were small and passengers were expected to spend most of their time in the public areas. Initial idea was for Hindenburg to use helium as a lifting gas because it is not flammable and with that the safest. But helium was relatively rare then and United States had the most of it. Because it was rare U.S. made a ban on the export of helium under the Helium Control Act of 1927. Germans designed the airship to use it because they believed that they could convince the US government to license its export. That didn't happen.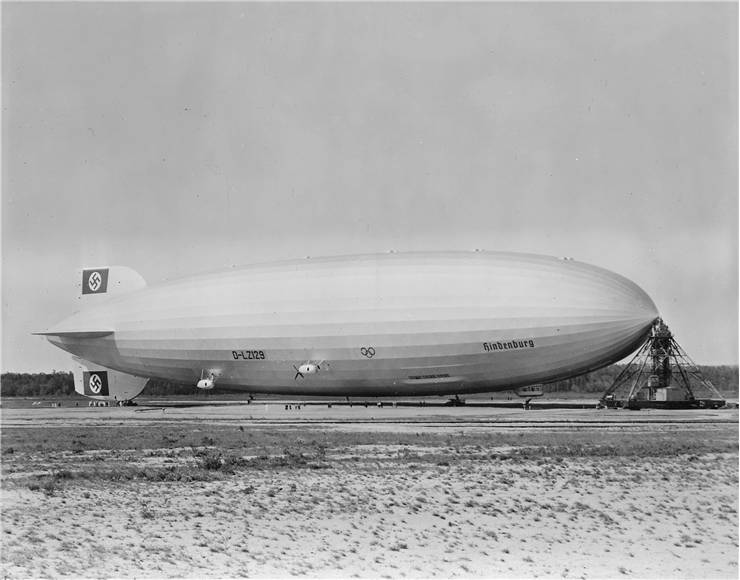 Hindenburg made its maiden test flight on March 4, 1936 with 87 passengers and crew aboard. After six trial flights made over a three-week period the Hindenburg was ready for public flight with a 6,598 km propaganda flight around Germany. Its first commercial passenger flight, a four-day transatlantic voyage to Rio de Janeiro, Hindenburg flew on March 31. It had 63 flights in total.
The last flight of Hindenburg was from 3 to 6 May 1937. Hindenburg left Frankfurt for Lakehurst on the evening of May 3. It was its first scheduled round trip between Europe and North America. Three days of routine flight later it approached for a landing. There were thunderstorms passing over Lakehurst so the Hindenburg was delayed for several hours. When they passed after few hours, it was cleared for landing. Landing lines dropped from the nose at 7:21 and were grabbed by ground handlers. At 7:25 Hindenburg burst to flames and completely burned in 37 seconds! 36 passengers and 61 crew were on board and 36 lives were lost in the disaster (13 passengers and 22 crew). To this day we don't know how the fire started.