History of LZ 127 Graf Zeppelin
LZ 127 Graf Zeppelin was a rigid airship from 1928 to 1937. It was made in Germany to carry passengers; it made 590 flights and flew over million miles. It was named after Ferdinand von Zeppelin, German pioneer of airships - the Zeppelins. LZ 127 Graf Zeppelin was 235m long and had 33.3m in diameter.
LZ 127 Graf Zeppelin was manufactured at Zeppelin Company works (Luftschiffbau Zeppelin) in Friedrichshafen at Bodensee, Germany. Construction lasted from 1926 to 1928. After the World War I, Germany was in obligation to deliver a Zeppelin to United States as war reparation. That Zeppelin was the LZ-126 later commissioned as the USS Los Angeles. LZ-127 Graf Zeppelin was patterned after the LZ-126. When the building was finished in 1928, LZ-127 Graf Zeppelin was the he largest airship in the world at the time. It had top airspeed of 128 km/h and normal operational airspeed of 117 km/h. It could stay in air up to 100 hours. The gondola was built into the forward third of the airship's ventral surface and held 36 officers and crew, and 24 passengers. At the forward part of gondola were forward operational spaces, behind them were the main dining and sitting room, ten passenger cabins, a pair of washrooms and dual toilet facilities.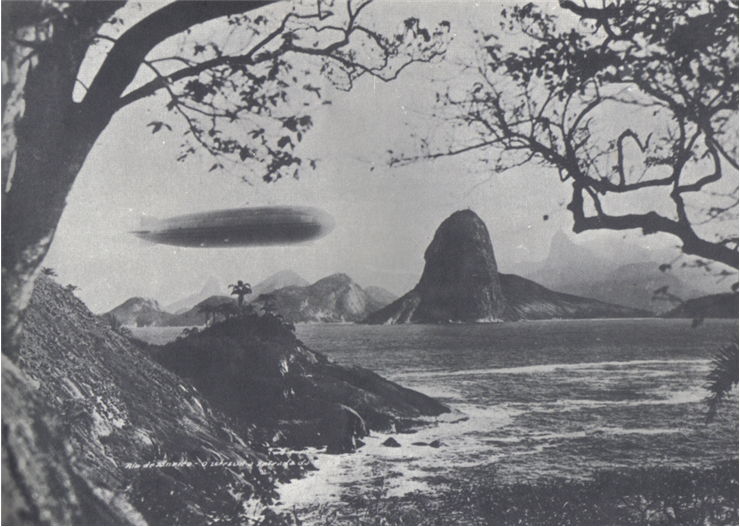 At first, from 1928 to 1932, Graf Zeppelin was used for experimental and demonstration purposes, as a mean of preparing the way for eventual regular commercial transatlantic passenger service. After the first six test flights, in October 1928, airship crossed the Atlantic to the United States. Some of other flights whose purpose was to show that airship transportation is posible were its round-the-world tour in 1929, the Europe-Pan American flight in 1930, a polar expedition in 1931, two round trips to the Middle East and other flights around Europe.
Its first intercontinental trip had 9,926 km in length and lasted 111 hour from Friedrichshafen to Lakehurst with Dr. Eckener in command. During this flight Graf Zeppelin suffered serious damage to its port tail fin but ship's riggers succeded to tie down the torn fabric and airship arrived safely. In 1929, Graf Zeppelin circumnavigated world in 21 days, 5 hours and 31 minutes and covered 33,234 km, starting and ending at Lakehurst Naval Air Station in New Jersey.One of the passingers aboard was Lady Grace Drummond-Hay which makes her the first woman to circumnavigate the globe by air. In July 1931, Graf Zeppelin also made a research trip to the Arctic. Initial idea for Arctic trip was Count Zeppelins some 20 years before but it was not possible because of the World War.
From 1932 to 1937 LZ 127 Graf Zeppelin maintained regular airline service and flew between Germany and South America. When Hindenburg crashed and burned on May 6, 1937 hydrogen airships fell out of public favor. Hydrogen could be replaced with helium but helium was rarer and more expensive which made airships less commercially viable. LZ 127 was grounded and withdrawn from service when it arrival in Friedrichshafen from a flight from Brazil on May 8, 1937.