Timeline of Zeppelins
July 8th, 1838 is the date of birth of Count Ferdinand Adolf Heinrich August Graf von Zeppelin, German designer and manufacturer of airships.
In 1873 Frenchman Joseph Spiess published an idea for a rigid airship but never made it because he couldn't get the funding.
In 1874, in Germany, Count Ferdinand von Zeppelin began designing his improved airship. It had a rigid structure inside which were placed balloons with lighter than air gas, had engines for propulsion and, underneath, a gondola which housed the engines, crew and passengers.
1892 - Count Zeppelin resigned from the military and began practical work on his lighter-than-air ship.
July 14th, 1895 - William Leefe Robinson was born. He was the first man to shoot down a German Zeppelin and for that he was awarded the Victoria Cross.
In 1900, on July the 2nd, Count Ferdinand Adolf Heinrich August von Zeppelin made the 1st successful flight of his lighter-than-air airship LZ 1 over Lake Constance, near Friedrichshafen in southern Germany. Flight lasted 20 minutes but the 420 foot craft crashed while landing.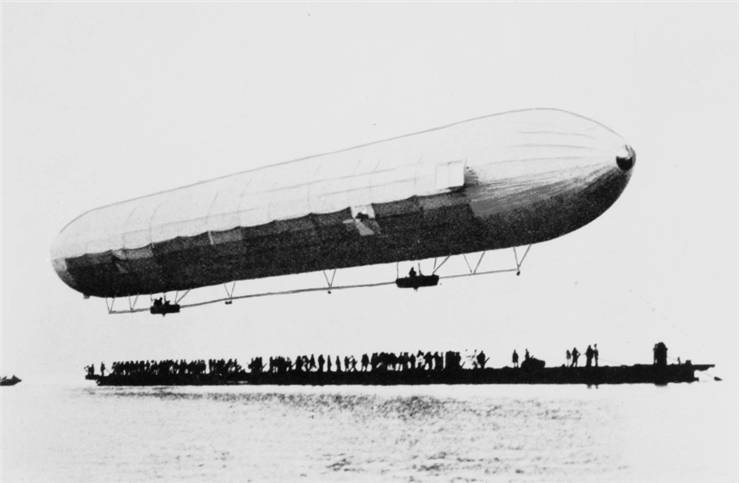 On 9 October 1906 Zeppelin LZ 3 flew and became the first became the first truly successful Zeppelin.
On January 9th, 1908 Count Zeppelin announced his designs for airships that would carry 100 passengers.
In 1909, a company was founded for building of aircraft engines. It was founded by Wilhelm Maybach, German engineer and industrialist, and his son Carl to build aircraft engines and also engines for Zeppelins.
In 1909 also, the Zeppelin LZ 6 became the first Zeppelin used for commercial passenger transport.
On 28th June of 1910, civilian Zeppelin LZ 7 "Deutschland" was damaged very badly after crashing during a thunderstorm over the Teutoburg Forest.
1911, May 16 , civilian Zeppelin LZ 8 "Deutschland II" was wrecked at Dusseldorf.
The German Zeppelin SZ 111 burned in its hanger in Friedrichshafen on Jun 17 1912.
On August 6 1914, Liege City was bombed by a German Zeppelin which killed 9 people.
On December 25 1914, The British Royal Navy Air Force tried to bomb the German Zeppelin hangar at Cuxhaven but couldn't because of the fog obscured the target and dropped the bombs on the secondary targets: a seaplane base on Langeoog Island, the light cruisers Stralsund and Graudenz and the city of Wilhemshaven.
The first German Zeppelin raid in London was on October 4 1914 but without casualties.
January 19 1915 - the first casualties of 4 by German air raids on Britain.
A German Zeppelin makes a night raid on Paris railway stations on March 22 1915.
On May 10 1915, Zeppelin made a major air raid on Southend-on-Sea and dropped hundreds of bombs.
May 31 1915 , a German LZ-38 Zeppelin performed an air raid on London.
The last casualties of Zeppelin air raids occurred on April 12, 1918.